Our Mobile 3d Gaming Theater is the ULTIMATE game trailer experience.

This mobile gaming theater features 4 – 51inch 3d capable televisions on the inside, this system comes standard with with Sony PlayStation gaming consoles featuring 3d Video Gaming Technology.  People of all ages will enjoy the 3d gaming experience.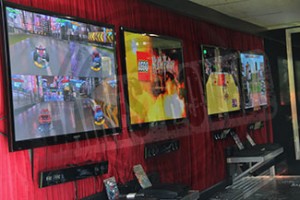 The 3D Game theater features state of the art sound with each TV- so that every gamer experiences the best interactive video game session possible.  When it comes to a choosing a versatile, fun, and incredibly decked out video game trailer- the Games Rover 3D game theater is the obvious choice!
We have all other types of video game console and various systems available to meet the needs of any client.
Sony PlayStation – Xbox – XBox Kinnect – Nintendo Wii – Nintendo Wii U

We also offer classic console systems like Sega Genesis, Atari, and Original Nintendo for those nostalgic video gamers out there!
Our Game Trailer also has an exterior awning available with Televisions available in 37″, 50″, and 60″ sizes and can feature any type of gaming system you want.  We have put together parties and options which offered up to 32 players the opportunity to play at one time in our state of the art Video Game Theater.
With a number of video game options- we can create the ultimate gaming experience to meet the needs of your special event.
Inside of the game trailer is a Photo booth– built right into the trailer, which gives your guests the ability to take home keepsake pictures of your special event- so that the event can be remembered for years to come.  In addition, the Game trailer is available with a mini bar option, which can come stocked with all kinds of alcoholic, or non alcoholic beverages and snacks to be enjoyed at your special event.
We also have driving game consoles available which offer the ultimate in video game entertainment.  3d gaming is at its best when you find yourself behind the wheel, with brake pedals and a 51 inch screen ahead of you.  These driving consoles are a guaranteed hit for any group and are an absolute must have for your next video game party!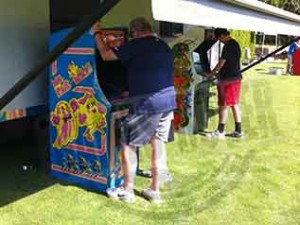 – Classic Arcade Gaming Option –
In addition to classic consoles, the Games Rover Crew can also offer classic mobile arcades- placed under the awning for a truly fun video gaming and arcade experience- brought to you!
Our Game trailer has been the central piece of many special events- from birthday parties, to corporate events, store promotions, carnivals, festivals, and much more.
We are thrilled to be involved in any special event you have coming up.  Take a few minutes and browse our website.  There are a number of other great fun options which will bring a huge amount of fun to any special event you may find yourself planning .