Our Game Trailer is completely decked out and game ready for all your party, promotional, or event needs. It can be towed out to your event in a Hummer H1 game truck for a HUGE IMPACT!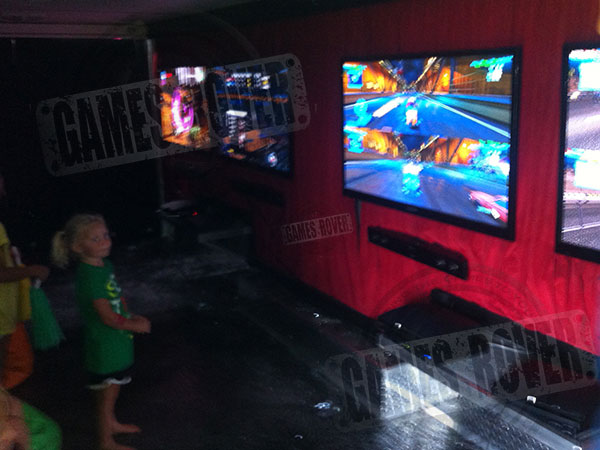 This video game trailer offers your guests an opportunity to experience 3d video gaming, with up to 16 players inside the trailer.  Additional gaming systems and televisions can be added to create up to an additional player positions outside under awnings and around the game truck and trailer.
For the ultimate mobile gaming experience, we are proud to offer you the following services:
Standard Video Game Theater – Play all your favorite video games in our state of the art mobile game theater.
3D Game Theater – 3D gaming options for up to 16 player stations.
3D Movie Experience – Watch any Movie Title available in 3d inside our state of the art theater on 4 screens at once!
Hummer H1 – Make a huge impact when this monster truck shows up at your event with a state of the art game theater behind it!
On Board Photo Booth – Keepsake photos from inside the game trailer!
MiniBar / Snack Station – Stocked with whatever non alcoholic drinks and snacks you desire.
Driving Consoles – For the ultimate driving video game experience.  Feel your hand grip the wheel, and put the pedal to the metal.
Mobile Satellite Feeds – Watch up to 2 Separate games or sporting events at once, great for tailgating events!
AV Carts – Featuring high def televisions in varying sizes, great for under the awning- or even for use where the game trailer can't go!
Inflatable Movie Screens – These movie screens are ideal for large groups and have a huge visual impact…
Zorb Balls – Hamster Balls – Hilarious fun – zorb balls are available in 2 sizes!
Lazer Tag – A laser tag party is an awesome experience.  We feature systems with up to 24players, and can grow on that!
Water Tag – Water Tag is an amazingly fun addition to any special event on a hot day.
Foam Parties – Our foam machines pump out an intense amount of foam- ready to make any party a huge hit.
Spot Light Rentals – Want to get noticed?  How about a spotlight telling everyone where your event is?
At Games Rover, we offer a fun selection of interactive video gaming and specialty entertainment options.  Our professional staff will be glad to help you with any upcoming special event you may be planning!