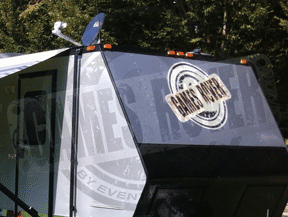 Our trailer features mobile satellite with the ability to show 2 channels at a time- perfect for tailgating, watch the other games- or pregame coverage from the comfort of the parking lot.
The mobile satellite feature generally requires a site preview.  In most cases as long as there is a clear view of the southern horizon, the satellite dish will be able to receive good reception.
We also have the ability to run these feeds outside of the trailer to feature games on additional screens, or even on our inflatable movie screens!